Laminators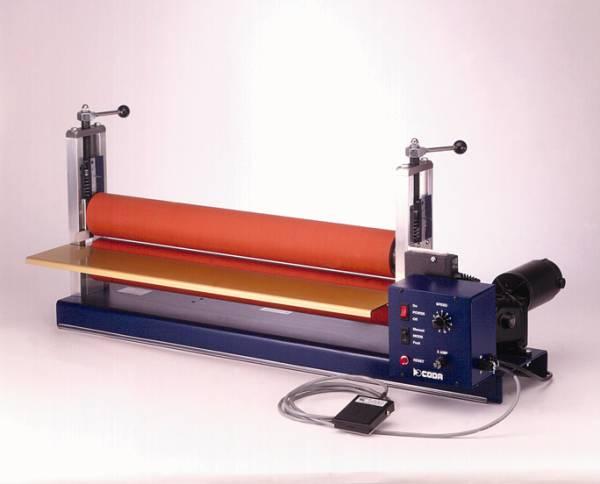 The economical Cold Mount table top presses are available in widths from 14" to 54". These table top presses are available in motorized and hand operated versions and are designed for pressure sensitive mounting and laminating.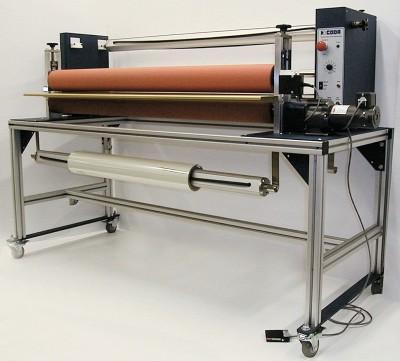 Coda's Cold Mount System combines Coda's award winning Cold Mount table top laminator with Coda's newly designed roll feed with automatic scrap rewind and floor stand. The complete unit is now a production machine that comes on a sturdy floor stand with locking casters and storage space for roll materials. Available in widths 14", 26", 34", 44" and 54", the Cold Mount System is easy to use and can be run by one operator.
Key Features of the Cold Mount System:
Automatic scrap rewind
operator adjustable tension control
self-locking 3" core supply and take-up mandrels
safety motor stops
two inch roller gap and precise roller and pressure adjustments
These features are comparable to production machines requiring a higher investment of finances and time learning to operate. The Cold Mount System is an integrated production machine ready
to be installed in any finishing department that has a requirement to mount and laminate using
pressure sensitive materials. The Coda Cold Mount System is ideal for low-to-high volume
production in a small-to-medium sized shop, or as an additional finishing station in a large shop where more expensive, high production machines are committed to very large runs or thermal lamination.
The Cold Mount System take up stand will also be available as a retrofit to existing table top laminators that are already in production sites.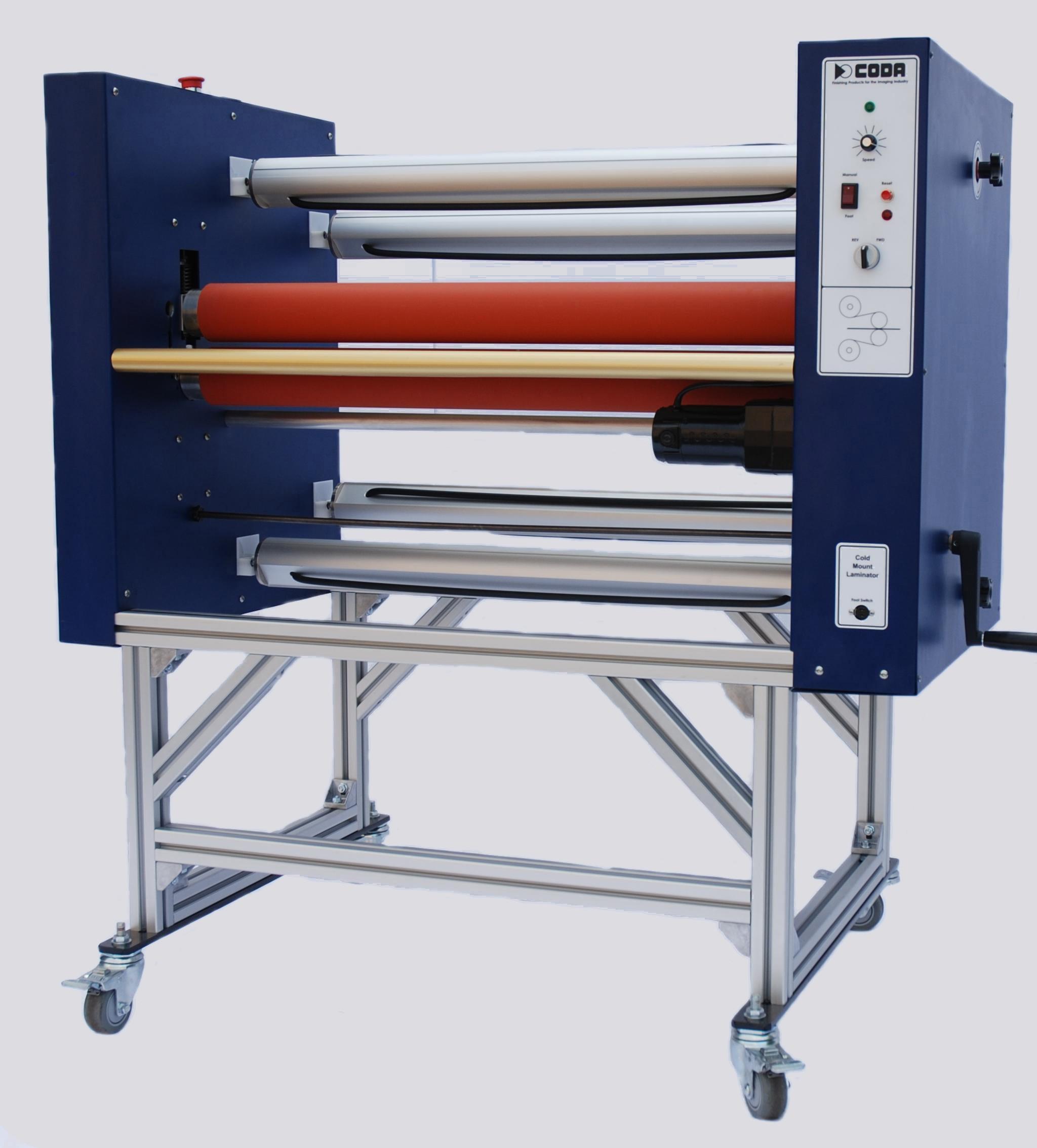 Our new Codamount Laminator leverages Coda's award-winning laminator technology in a unit with optional features so you can configure (and afford) just what you need and nothing more. Available pressure-sensitive, heat-assist or thermal in 26",

34", 44", 54" and 64" widths. The Codamount

Laminator is easy to use and can be run by one operator. This laminator is the ideal choice for any size business, from being the backbone of a small shop to being a high production unit in a larger operation. The features on Coda's Codamount Laminator are comparable to industrial machines requiring a higher investment of both time and money.
Key Features:
Pressure-Sensitive, Heat-Assist or Thermal
Single side gap adjustment, nip rollers open to full 2"
Operator-adjustable tension control
Self-locking 3" core supply and take-up mandrels
Safety motor stops – automatic and manual
Precise roller height and pressure adjustment
Sturdy base with locking casters
Top feed and take-up
Optional bottom feed and take-up for coating both sides in a single pass
Powder-coated finish for durability
Single person operation
Ships fully assembled and ready to run
Technical support direct from the manufacturer
Three year warranty on parts and workmanship
Designed, engineered and manufactured in the USA