SteelTraK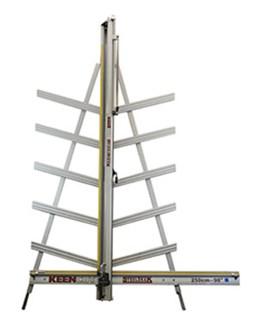 Developed specifically for the tougher and thicker rigid and semi-rigid substrates used in today's sign making market, the heavy-duty SteelTraK handles oversized materials with ease. With a cut length option of 65", 82" or 98", it is the longest, most accurate and easy-to-use manual vertical cutter available.
One Step: SteelTraK Straight to Printer
The SteelTraK casts no debris, which means it, can be positioned right next to your printing machines without fear of airborne dust damaging the project or resulting in do-overs. Built in to your production line (wall-mounted to save space, or using an optional freestanding kit), the SteelTraK is a guaranteed time and money saver.

State-of-the-Art Counterbalance
The rear spine of the SteelTraK is fitted with a counterbalance that allows users to put the head in any position without it dropping to the bottom of the machine. The cumbersome process involved with other vertical cutters – of lifting up the head, applying the brake, and screwing it in place while simultaneously loading the material – is eliminated. The counterbalance eliminates the load from the cutting head, and because operators aren't lifting the full weight of the head, they can concentrate solely on cutting the material. The end result: time savings and productivity gains.
Heavy-Duty Design
A robust frame that includes extruded aluminum back beams offers support for sheets of all sizes and prevents offcuts (including flexible materials) from falling through the frame.
Perfect for Cutting Up to 1/2":
Acrylic (up to 1/4", scoring & snapping)**

Aluminum (.040")*

Aluminum composite (up to 4mm)
Corrugated plastic

Flexible polycarbonate (up to 3mm)
Honeycomb board
Foam Board
Gatorboard®
Glass (up to 1/4", scoring & snapping)*
MDF (up to 3mm)
PVC board**
*With optional glass cutting tools
**Some restrictions may apply to Acrylic, Glass and PVC materials, on the 98" model. Please contact your local Foster Keencut Dealer for more information.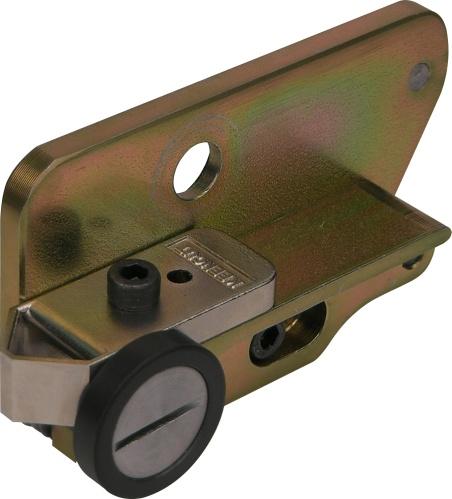 All New For 2014... The 98" SteelTraK Cutter!
This strong, reliable vertical cutter handles FULL SIZE 4'x8' boards.
Added features of the new 98" SteelTraK include:
Vertical cutting length of 98" (250cm)
The Main Body encloses a balance weight system so that the Cutting Head can be suspended at any height.
Change blades in an instant, and no need to lift the heavy duty Cutting Head.
Easy operation for cutting 98" media using the Pull Bar system.
Make your SteelTraK even more versatile
Manufactured from hardened high-carbon tool steel, the optional V-Groove cutting tool is perfect for making trays, trade show display stands and light boxes at a fraction of the cost and in a fraction of the time required by larger equipment. The V-Groove device cuts a "v" out of the back of the material - for instance, in aluminum composite - through one section of aluminum and through the plastic core, enabling the material to be folded to 90°. Using the V-Groove cutting tool, you can:
Fold aluminum composite, PVC board and corrugated plastic
Cut smoothly and silently without debris, noise or burred edges
Remove exactly the correct amount from one side of the sheet material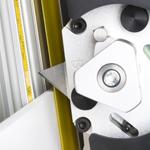 Easily selectable three-in-one cutting tool. Three turn and lock ready mounted tools for instant action:

Utility blade for 1/2" thick materials

Acrylic scoring blade

Composite twin-wheel cutting head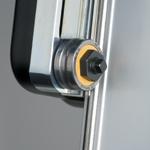 Pre-lubricated ball bearings glide along two steel tracks, resulting in precision cuts, low friction and years of trouble-free life with no adjustments.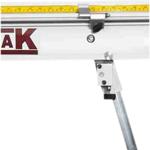 Two flip stops – which can be engaged or disengaged without disturbing the settings – make cutting-to-size easy. Ultra precise vernier screw adjustment provides a permanent, perfect 90° squaring arm and accurate cuts every time.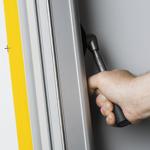 Full-length, extra-grip clamping system secures materials, and a transparent cutline cursor creates ultra precise cuts with no laser shake and no wasted panels.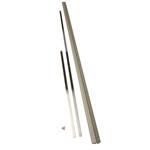 Optional Glass Cutting Kit for scoring & snapping up to 1/4" thick glass (model # 69129).

Cutting kit includes:

Break-off Ramp
Long wear strip
Short wear strip
Glass scoring wheel and cartridge.
Features

Includes:

Wall mount kit

Medium-duty utility blades (100)
Acrylic scorning blade
Composite twin-wheel cutting tool

Telescopic legs adjust for height & minimum fatigue
State-of-the-Art counterbalance
Optional Free Standing Kit available
5 year general warranty
20 year warranty on bearings
100% Manufactured in the UK